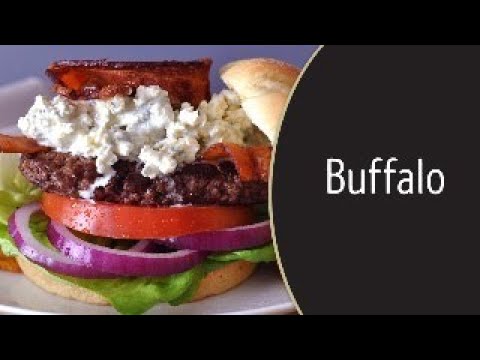 The original free-range and healthy red meat, our bison live outdoors year-round and forage on the vast plains in the northern U.S. and Canada with minimal human interaction. Naturally leaner than beef, ground bison offers full flavor with a slightly sweet finish, and a 90/10 lean-to-fat ratio. Higher in protein and lower in fat, cholesterol, and calories than beef, nutritionally dense buffalo meat also has plenty of iron. Use it in place of ground beef in any recipe, and keep in mind that because it is leaner, bison meat is best cooked to medium-rare. Grill masters, chili fiends, and adventurous eaters go wild for our ground bison, and so will you.
100% pasture-raised with access to grain and hay
No hormones or antibiotics
Sold in an uncooked state
Product of USA & Canada
For best taste on fresh products, use or freeze within 3-5 days of receipt; for frozen products, use within 1-2 days after thawing
Subscription Eligible
Bison meat is quite lean –leaner than beef, pork, turkey and even chicken—and never leaves a greasy taste in the mouth. This leanness allows it to cook quicker than beef, and not shrink much while cooking.
The meat of the American bison has between 15 and 30% more protein and 25% less cholesterol than beef. In a 3 ½ –ounce serving of bison sirloin, there are only 3 grams of fat (compared with 14 grams in beef sirloin), and about half the calories (120 versus 210).
Ground bison meat can take the place of ground beef in any recipe, and is ideal for burgers, lasagna, chili and meatloaf. Just keep in mind that bison is leaner than beef, and requires lower cooking temperatures. Cook bison burgers rare to medium rare and coat them with a thin layer of oil before placing them on the cooler part of the grill.
These indigenous animals, often incorrectly called buffalo, are raised on vast pastures in Canada and the U.S. to our exacting specifications. The Plains Breed Bison graze on prairie grasses as they have done for many centuries, with minimal human interaction. Their grass-based diet is supplemented with grain and hay.
A state-of-the-art integrated system of corrals, funneled walkways, and chutes are designed to provide safe and humane movement of bison on and off the ranches. The bison are brought to market at 22-26 months of age.