Artisanal Dry-Cured Pork Saucisson Sec, Sliced
fresh:
3 Packs (3.5 oz ea)
Our dry-cured pork saucisson sec is ready-to-eat and thinly sliced for the ultimate in convenience. Now your charcuterie boards will come together in just minutes! This small-batch sausage begins with pork raised without antibiotics or hormones, that is fermented with salt, sugar, and spices - never any nitrates, nitrates, or preservatives - before being hung and aged to the perfect consistency. With a meaty, firm texture and delightful flavor, accented with a generous amount of garlic, saucisson is a must for any charcuterie board. We admit that these thin rounds of saucisson are now a favorite snack with some cheese and crackers. Enjoy it layered over a generous slather of black truffle butter on a baguette for a real treat.
Artisanal quality dry-cured sausage
Pork is antibiotic and hormone free
Long curing time for deep flavor
Shelf-stable
Gluten-free
No nitrates or nitrites added
Contains pork
Product of USA
For best taste, use within 3-5 days of receipt and/or by the expiration date on the package
Subscription Eligible
Serving Tips: Saucisson sec is the perfect addition to a charcuterie board or cheese plate, with grainy mustard on the side. You can also use saucisson sec in any recipe that calls for salami, or make a simple tartine of saucisson sec with black truffle butter on a baguette.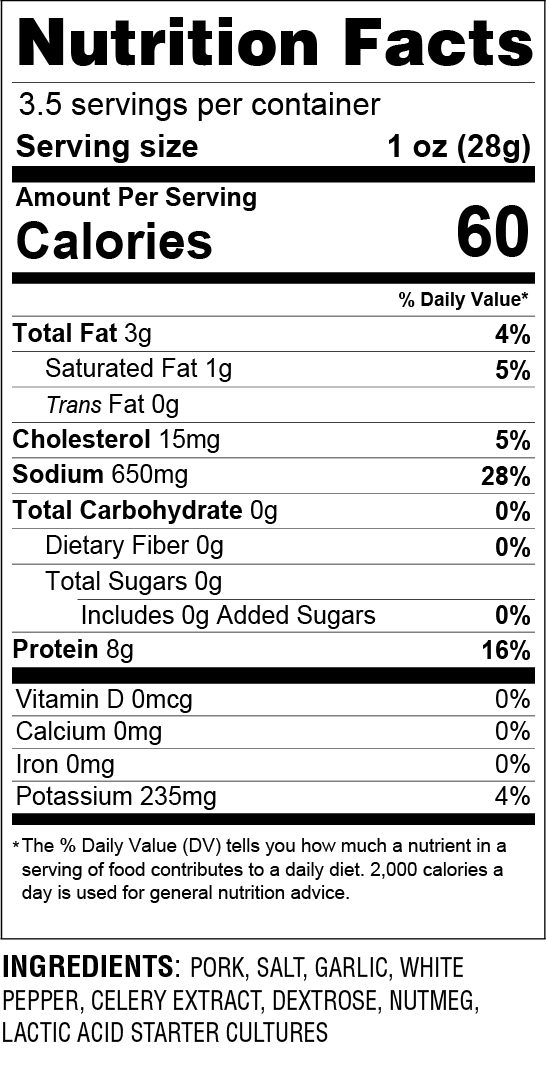 Charcuterie refers to smoked, cured or cooked meats, all of which are traditional methods of preservation.
We begin with the highest quality ingredients and follow traditional recipes and natural techniques.
Our handmade charcuterie line represents the full range of styles and flavors, including bacon, cured ham, cooked, uncooked and dry-cured sausages, pâtés and mousses, duck confit and rillettes, smoked and cured duck, chicken and turkey breasts.