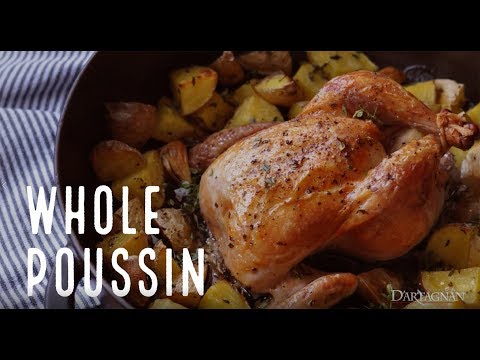 frozen:
4 (16 to 20 oz avg ea)
Small young chicken - each weighs about a pound - is known as poussin or spring chicken, and is perfect for serving one-per-person. The delicate, tender and lean meat will cook like chicken - only a lot quicker. Our young chickens are raised on small farms in open barns with plenty of space and eat a clean grain diet, with no antibiotics or hormones added.
Whole poussin
Humanely raised to 3 - 4 weeks
All-vegetarian diet: corn and soy
No antibiotics, no hormones
25% less fat than commercially-raised chicken
Serves one adult or two children
Product of USA
For best taste on fresh products, use or freeze within 3-5 days of receipt; for frozen products, use within 1-2 days after thawing
Subscription Eligible
Cooking Methods: Roast, Poach, Braise, Barbecue, Grill, Pan-Fry
Cooking Tips: Poussin can be cooked whole, spatchcocked, or cut into parts. The mild flesh can take all manner of seasoning. Butter or duck fat rubbed all over the outside helps crisp the skin of these lean birds. If roasting whole, try stuffing the cavity with small pieces of aromatics like lemon, onion, or herbs. Poussin are cooked when an instant read thermometer inserted into the thickest part of the breast and thigh registers 165 degrees F and juices run clear.
D'Artagnan is dedicated to finding farmers that share our vision of a more humane and sustainable way of rearing livestock. We look at scale and sustainability; working only with those farms that respect nature and focus on the best animal welfare practices.
We procure our poussin from two small poultry farms, one in New Jersey, the other in South Carolina. Both farms follow strict protocols and raise the birds humanely in open barns with plenty of space, on an all-vegetarian diet of corn, soy and clean, fresh water without any antibiotics or hormones.