Thanksgiving Holiday Frequently Asked Questions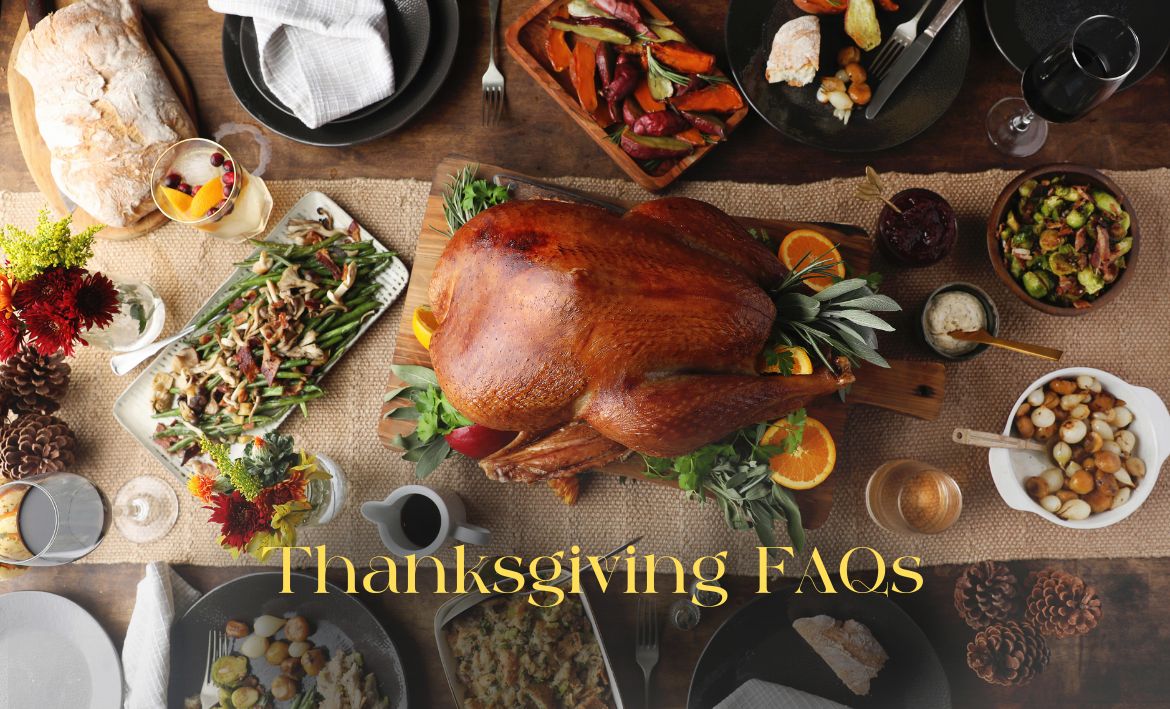 Welcome to the D'Artagnan Thanksgiving Holiday Help FAQ page.
Below you'll find answers to some of the most frequently asked questions surrounding the Thanksgiving order and delivery journey. We are here to help make your purchase experience seamless. If your question doesn't appear below, feel free to Contact Us anytime.
PREORDERING
We appreciate your interest in our holiday offerings, and we're delighted to provide you with information about our preorder process for Fresh Turkeys, Bone-in Breasts, Bone-in Berkshire Hams, Capons, and Geese.
Starting on October 9th, you can begin placing preorders for these items. Here's how our process works:
Preorder Start Date:
Preordering for Fresh Turkeys, Bone-in Breasts, Bone-in Berkshire Hams, Capons, and Geese begins on October 9th.
Choosing a Delivery Date:
On or after October 9th, you can purchase your desired items and choose a delivery date.
The available delivery dates for these holiday items are November 17th, 18th, or 21st.
Important Note:
When selecting your delivery date, please be aware that any other items included in your order will also be delivered on the chosen date.
Unfortunately, we cannot accommodate separate delivery dates for individual items within the same order.
We recommend placing your preorder as early as possible to secure your preferred size and delivery date, as availability may be limited during the holiday season.
For our preorder items, which include Fresh Turkeys, Bone-in Breasts, Bone-in Berkshire Hams, Capons, and Geese, you have the flexibility to choose from the following delivery dates: November 17th, 18th, or 21st.
We highly recommend considering delivery on the Friday or Saturday prior to Thanksgiving. This will provide ample time for preparation and brining if you choose to do so. Additionally, scheduling your delivery earlier in the week will help you avoid the heavier holiday rush the week of Thanksgiving.
Rest assured that our birds are carefully sourced and have expiration dates extending to the Sunday after Thanksgiving, so you can enjoy your meal without any concerns..
We apologize for any inconvenience, but please note that due to the seasonal nature of our Fresh Turkeys, Capons, Geese, and Bone-in Berkshire Hams, discounts cannot be applied to these items. Additionally, they cannot be applied to meet order thresholds for discounts.
TURKEY RELATED
To help you understand the differences between our turkey options, please click here for a detailed comparison.
Regrettably, we are not offering wild turkeys this year due to new regulations imposed by the USDA. As they have ceased to certify wild turkeys, we have suspended both shipping and the availability of this particular turkey option. However, we encourage you to explore our other farm-raised turkey options, such as organic, Green Circle™, and heritage turkeys. These alternatives offer the same high-quality and delicious options that you've come to expect from us, ensuring you have a wonderful Thanksgiving meal.
We recommend checking the product pages for each item, where you'll find recommended serving sizes listed next to each size option. This information will help you choose the perfect size to meet your needs.
Yes, your fresh turkey is indeed shipped fresh. We take immense pride in our sourcing process, which involves collaborating with a network of small farms that share our unwavering commitment to quality.
After our turkeys are carefully harvested, they undergo a precise deep chilling process that brings them down to the edge of freezing. This deep chilling method creates a protective shell around the bird, effectively extending its shelf life. This step is crucial in ensuring that your turkey remains fresh throughout its journey to your doorstep and up to the holiday season.
Maintaining the freshness of our products is of paramount importance, especially during the holiday season, when you rely on the highest quality ingredients for your special meals.
You do not need to freeze your fresh turkey upon receiving it. Our fresh turkeys are chilled to the edge of freezing for safety during transit and storage. Please note that they have an expiration date of the Sunday after Thanksgiving, so be sure to plan your meal accordingly..
If you're considering brining your turkey, we recommend following our recommended guide for brining, which you can find here . It's important to note that the brining process can take up to 1-3 days, depending on the specific recipe you choose.
Given the duration of the brining process, we recommend scheduling your turkey delivery accordingly. This will ensure that you have enough time to prepare and brine your turkey before your Thanksgiving celebration. Ultimately, whether to brine your turkey or not is a matter of taste, and there is no one-size-fits-all answer. Some people prefer the natural flavor of a turkey without brining, while others find that brining adds an extra layer of deliciousness to their holiday meal.
To clarify, our turkeys do not come with pop-up timers pre-installed. While pop-up timers are a convenient option for some, we recommend using a meat thermometer for more precise and accurate results when cooking your turkey. A meat thermometer allows you to monitor the internal temperature of the turkey, ensuring that it reaches the recommended safe temperature without overcooking. It's a valuable tool for achieving a delicious, perfectly cooked bird. If you do not already have a meat thermometer, you can easily purchase one for a few dollars at your local grocery store or online. It's a worthwhile investment that will help you achieve the best results when cooking your turkey.
Please note that the weights of our turkeys are not listed on the package. To determine the exact weight of your turkey, you would need to use a scale. However, we provide you with some important information to help you estimate the weight of your turkey: Green Circle and Organic Turkeys: These turkeys are shipped within 2 lb increments. When you place your order, you will see the minimum weight for the turkey you have selected listed at that time. This gives you a general idea of the size you can expect. Heritage Turkeys: For Heritage Turkeys, we also provide minimum weights at the time of ordering to give you an idea of the size range.
To get the most accurate weight, we recommend weighing your turkey at home before preparing it for your Thanksgiving feast. This will help you plan your cooking time and portion sizes accordingly.
We sell to many food retailers across the nation. While we work to develop a store locator, we encourage you to look for our products when you're shopping. Alternatively, you can Contact Us and we'll do our best to try and locate the closest D'Artagnan retailer in your area.

NOTE: Product selections and availability vary by individual supermarket/food retailer.
ORDER REVISIONS & CANCELLATIONS
We understand that circumstances may change, and you may need to make adjustments to your order.
We would like to inform you that we can accommodate cancellation requests up to 12 days prior to the scheduled delivery date. If you wish to cancel your order, please contact our customer service team as soon as possible, and they will assist you with the cancellation process.
It's important to note that once we are within the 12 day window leading up to the delivery date, we are unable to process cancellations. This is due to the extensive preparations and coordination involved in shipping thousands of turkeys and other holiday items during this busy season.
We appreciate your understanding and cooperation in this matter.
We understand that flexibility is important, especially during the busy Thanksgiving season. However, we would like to inform you that once an order is submitted, it cannot be revised.
Shipping thousands of turkeys/Thanksgiving orders during this time of year is indeed a significant undertaking, and our entire team is working diligently to ensure that your order is processed and delivered with the utmost care and efficiency. If you find it necessary to make changes to your order, we recommend that you request a cancellation prior to 12 days from the scheduled delivery date. After cancellation, you are welcome to place a new order with the desired items and specifications.
Please note that as Thanksgiving approaches, the availability of certain items, such as turkeys, turkey breasts, hams, geese, and capons, may become limited, and sizes tend to run out quickly. We encourage you to plan ahead and secure your preferred items well in advance to avoid any disappointments.
To add items to your order, we kindly ask that you place a separate order for the additional items you'd like to purchase. Unfortunately, we are unable to make additions to existing orders. This ensures efficient processing and accurate fulfillment of your order.
OTHER
Suckling pigs can indeed make a fantastic centerpiece for entertaining a crowd, whether it's for a holiday celebration or any special occasion. Here are some important considerations and advice for your purchase:
Selecting the Right Size: It's crucial to choose a suckling pig that suits your cooking method and the size of your party. Consider whether you'll be using a grill, oven, rotisserie, or a specialized roasting box. Suckling pigs are available in various sizes, so be sure to pick one that fits your cooking equipment and can accommodate your guests. As a general guideline, you should allow for approximately 1 ½ pounds of pork per person.
Cooking Methods: If you don't have access to a place to dig a pit or specialized equipment like La Caja China, you can still cook a suckling pig in a high-heat oven. Ensure that your oven is of an appropriate size to accommodate the pig you are purchasing. Suckling pigs that weigh less than 20 pounds generally fit in the average kitchen oven, while anything larger may require a spacious grill or smoker.
Preparation and Cooking: Preparing and cooking a suckling pig can be a rewarding experience, but it may require some planning and preparation. You might want to explore different recipes, marinades, and cooking techniques to achieve the flavors and results you desire.
Guest Experience: Suckling pigs not only provide a delicious meal but also offer a unique dining experience for your guests. Consider carving the pig at the table to create a memorable and visually appealing presentation.
To learn more about our Suckling Pigs
Since it's fully cooked, ham can be served cold, at room temperature, or heated, with or without glaze.
To heat, first, bring the ham up to room temperature. We recommend removing it from the fridge at least an hour before you plan on heating it. Preheat the oven to 300 degrees F.
Place the ham on a rack in a heavy-bottomed roasting pan with the fat side up. Pour ¼ to ½ inch of water, or liquid of your choice, to the pan.
Place a sheet of parchment paper over the ham then cover tightly with aluminum foil. Heat in the oven until the internal temperature reaches about 140 degrees (about 10 minutes per pound of ham). An oven-safe probe thermometer works well for this - poke it into the thickest part of the ham without touching the bone. Heating time will vary depending on your oven and size of the ham.
Remove the ham from the oven and allow it to rest for a few minutes, tented with foil. As long as you keep your eye on it, this is a safe way to heat the ham without drying it out.
For the spiral ham, simply place it on a sheet of heavy-duty foil, with the cut side down. Wrap the ham tightly with foil and bake at 300 F until your meat thermometer registers 140 degrees inserted into the thickest part of the ham.