Uncured Hickory Smoked Bacon
fresh:
6 Packs (12 oz avg each)
We make great all-natural bacon because we use the best ingredients. Our hickory smoked bacon is made with heritage-breed pork from small farms that raise the hogs humanely without the use of antibiotics or growth hormones.* The pork bellies are naturally smoked over hickory chips, without the addition of artificial nitrates, nitrites or preservatives, to make a full-flavored bacon that you can enjoy breakfast, lunch and dinner.
Heritage-breed hogs raised humanely on small farms
No antibiotics, no growth hormones
No animal by-products
Air-chilled pork (retains less water weight)
No artificial preservatives, nitrates or nitrites added
Naturally smoked over hickory chips
Gluten free
Product of USA
For best taste, use within 3-5 days of receipt and/or by the expiration date on the package

*USDA regulations prohibit the use of hormones in pork

Subscription Eligible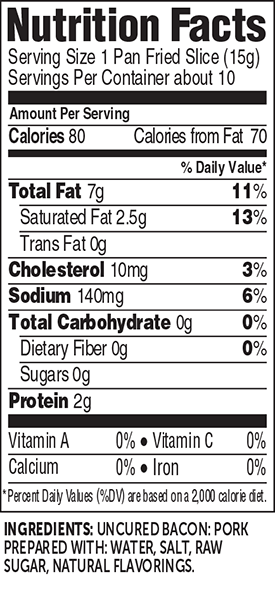 Charcuterie refers to smoked, cured or cooked meats, all of which are traditional methods of preservation.
We begin with the highest quality ingredients and follow traditional recipes and natural techniques.
Our handmade charcuterie line represents the full range of styles and flavors, including bacon, cured ham, cooked, uncooked and dry-cured sausages, pâtés and mousses, duck confit and rillettes, smoked and cured duck, chicken and turkey breasts.