fresh:
1 Pack (2.5 oz)
Price reduced from

$15.99

to
Price
$13.59
fresh:
3 Packs (2.5 oz ea)
Wild boar lonza is hand-crafted and dry-cured with simple ingredients for exceptional quality and flavor. Nothing but wild boar, salt, and spices are used to make this unique and tasty addition to our line of charcuterie. We never use nitrates or nitrites, or artificial coloring. Wild boar meat is similar to pork – but with a darker reddish hue and more intense, nutty flavor. Following traditional processes, our artisanal producers constantly monitor the curing and drying process to yield the best possible consistency, flavor, and mouthfeel. This lonza is never boring and makes the perfect addition to a charcuterie board.
Antibiotic- and hormone-free truly wild boar
Hand-crafted using traditional techniques
Air-dried wild boar
No nitrates or nitrites added
Gluten free
No colorings
Sold sliced
See expiration on package
Product of USA
For best taste, use within 3-5 days of receipt and/or by the expiration date on the package
Subscription Eligible
Serving Tips: Our Wild Boar Lonza is a unique addition to a charcuterie board. Add a generous drizzle of extra-virgin olive oil to bring out its rich flavor. In Italy, lonza is often served with Pecorino cheese and fresh fava beans in the spring. We also like it with a swath of grainy mustard on ciabatta.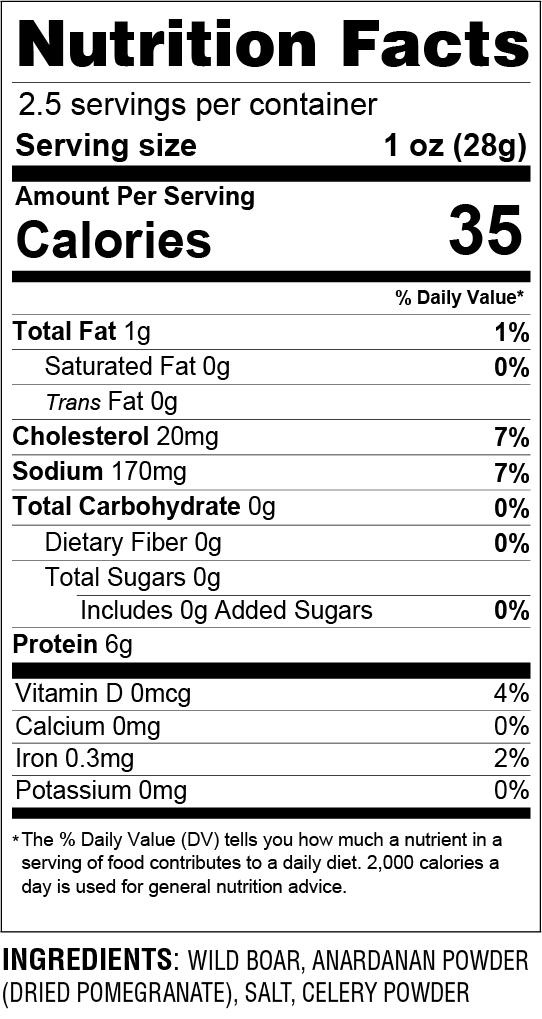 Charcuterie refers to smoked, cured or cooked meats, all of which are traditional methods of preservation.
We begin with the highest quality ingredients and follow traditional recipes and natural techniques.
Our handmade charcuterie line represents the full range of styles and flavors, including bacon, cured ham, cooked, uncooked and dry-cured sausages, pâtés and mousses, duck confit and rillettes, smoked and cured duck, chicken and turkey breasts.