Organic Boneless Skinless Chicken Thighs
frozen:
4 Packs (1 lb avg each)
Organic free-range chicken, raised humanely, with no antibiotics, hormones, or arsenicals. Our farmers give the chickens non-GMO, organic feed, spring water, outdoor access, and plenty of indoor space to express natural behaviors. Savor the buttery taste and texture of our delicious, award-winning chicken. Because they are air-chilled there is no excess water in the meat. Boneless, skinless thighs take marinades well and make quick meals - grilled on skewers, braised in curry sauce, or pan-seared with duck fat. Shredded, breaded, or marinated and roasted these thighs are going to be your new favorite cut of chicken.
Humanely raised
USDA-certified free-range organic chicken
100% non-GMO, organic feed of corn and soy
No antibiotics or hormones
No animal by-products
No arsenicals
Raised to 8 weeks
Air-chilled for no retained water
Farm-to-table audit trail
Sold in an uncooked state
Sold by weight, thighs vary in size
4 1lb packs
Boneless and skinless
Product of USA
For best taste on fresh products, use or freeze within 3-5 days of receipt; for frozen products, use within 1-2 days after thawing
Subscription Eligible
Cooking Methods: Pan-Roast, Roast, Quick-Braise, Sous Vide, Bake, Grill, Barbecue, Fry
Cooking Tips: One of our favorite chicken cuts, our organic boneless thighs cook quickly and are perfect for weeknight meals. Because they're air-chilled, they don't retain water weight, and offer only pure chicken flavor. Versatile chicken thighs are juicy, succulent, take all manner of seasoning well, and can be cooked using any of your preferred methods.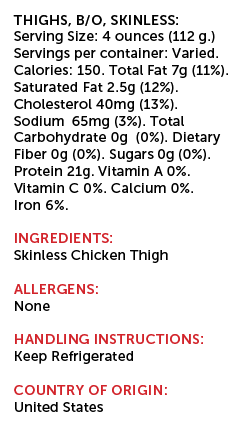 Our organic chickens are raised in the heart of Pennsylvania Dutch country by small Amish and Mennonite family farms committed to sustainable agriculture.
The chickens feed only on whole, non-GMO organic corn and soy, and no protein supplements, no poultry or fish by-products, no pesticides or herbicides are ever used. The water they drink is pure spring water, free of chlorine and fluorine. No growth hormones, tranquilizers, arsenicals or antibiotics are ever administered.
Our chickens are also free-range. In order for poultry to be certified free-range, it must be raised in specific conditions: with access to the outdoors and natural light, ability to forage naturally and a minimum of 1.5 square feet of space per bird when indoors. In addition, they must be raised to 8 weeks of age, as opposed to 5 or 6 weeks, which is standard for commercially-raised chicken.