Chicken Mediterranean Sausage
Our all-natural sausage starts with free-range chicken, raised without antibiotics or hormones, just like the rest of our products. We make our Mediterranean sausage with a proprietary recipe, using only all-natural ingredients. You won't find any preservatives, nitrates, fillers, or artificial flavors in our sausage. Instead, you'll be able to pronounce everything on the ingredients list: sun-dried tomatoes, olives, basil, and garlic. Equally at home in the dining room or the backyard, chicken sausages offer a lighter alternative to traditional sausage, with no sacrifice of taste. These lean links are fabulous when heated on the grill, and then served with pasta, salad, pita, or your favorite Mediterranean fare
From free-range chicken
No antibiotics, no hormones
No animal by-products
No artificial ingredients
No nitrites or preservatives
Fully cooked, ready-to-heat
Gluten-free, pork-free
No casing
4 links per package
Product of the USA
For best taste, use within 3-5 days of receipt and/or by the expiration date on the package
Cooking Methods: Pan-Sear, Griddle, Grill, Sauté
Cooking Tips: Our Chicken Sausages are fully cooked. Serve browned or lightly-charred with your favorite condiments and side dishes. Add to recipes like pastas, soups, and casseroles. Make a quick sheet pan meal by tossing sausages with sliced onions, peppers, and olive oil before baking.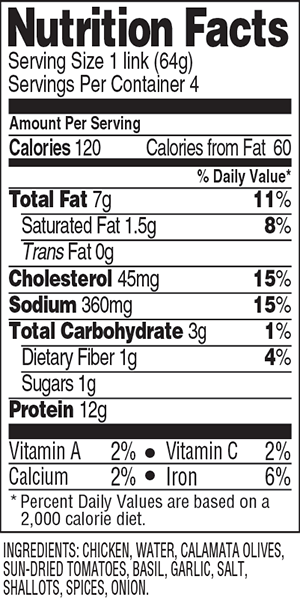 Charcuterie refers to smoked, cured or cooked meats, all of which are traditional methods of preservation.
We begin with the highest quality ingredients and follow traditional recipes and natural techniques.
Our handmade charcuterie line represents the full range of styles and flavors, including bacon, cured ham, cooked, uncooked and dry-cured sausages, pâtés and mousses, duck confit and rillettes, smoked and cured duck, chicken and turkey breasts.