Alternatives to Thanksgiving Turkey
hen it comes to tradition, nobody will dispute the place turkey has on the Thanksgiving table. But, believe it or not, there are some people who don't like the taste of turkey. And then there are others who have to feed a small gathering, or are tired of heaving a giant roasted turkey onto the dining room table. For all of these, we have solutions.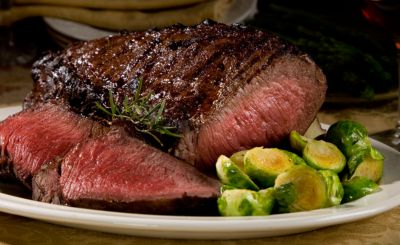 The Bird is the Word
If you want a glistening, roasted bird as the centerpiece of your meal, there are options that do not involve turkey. Try roasting a capon, voted most popular poultry by Italian and French families who center their holidays around these tender, richly flavored birds. While you can roast a capon, you might also stuff it with foie gras and cook it "au pot" style, for savory results.
Another classic bird for special occasions is the goose. Perfect for roasting, the goose offers dark meat, and a distinctive flavor that pairs well with fruits as in this recipe.
For smaller groups of diners, a pheasant (or multiple pheasants) can be a clever solution to the "turkey, or not turkey" dilemma. With its lean and delicious meat, pheasant is one of the most widely consumed game birds in the world. It is easily roasted with herbs and onions, and should be generously buttered and basted to keep it from drying out. Great when stuffed with chestnuts or your family go-to stuffing recipe.
Similarly, the gorgeous and ever-so-slightly gamey guinea hen would make a lean and delightful alternative to turkey. Try Ariane's recipe for guinea hen (rubbed with duck fat!) on a vertical roaster for delightfully crackling skin.
Individual game birds can be a nice change of pace for the cook and the guests. Two roasted quail per plate make a beautiful presentation, and cook up so quickly, you won't even miss your turkey baster. Why not serve a single squab to each diner? A sophisticated surprise to the American palate, squab is quite common throughout the world, and has rich, red and lean meat. Foie gras, wild mushrooms of the season, figs or prunes make wonderful accompaniments to squab.
It goes without saying that duck is a perfect bird for a holiday meal, whether the classic a l'orange or roasted with lavender and honey. And many people enjoy the challenge of constructing a turducken, that is, a deboned turkey stuffed with a duck and a chicken crammed inside that! Not for the faint of heart, this recipe.
The Game is Afoot
In autumn, game meats are perfect for special meals; and while we like game birds, our thoughts often turn to lean, tender venison. With its rich red meat, full of iron, zinc and other vitamins, venison is leaner than beef and quite flavorful. Venison also pairs well with the vegetables of the season: squash, pumpkin, chard, turnips, and any kind of potato.
An oven-roasted venison rib rack looks beautiful on a platter, and satisfies that red meat craving in a big way. Alternately, try loin of venison, which will feed a good-sized group and is easy to slice into medallions. Lest we forget, venison was likely on the menu at the original feast of Thanksgiving.
Although buffalo would not have been on that menu, thanks to recent conservation efforts, you can include it on yours today. This indigenous bovine makes a healthy addition to the Thanksgiving table, with its lean and rich red meat. A large buffalo tenderloin can be roasted and sliced into individual steaks, and works well with the classic sides like mashed potatoes and green beans. Who says you have to eat poultry at Thanksgiving?
Wild boar makes a surprising choice, but, really, what says "feast" quite like it? Images of royalty dining in long halls hung with tapestries come to mind. With a nutty, sweet flavor to recommend it, lean wild boar meat is replacing pork on many tables. Try a shoulder of wild boar, which can be smoked or braised with aromatic herbs and served with celeriac, porcini mushrooms, acorn squash, or sticky, roasted apples.
Whatever option you take, don't feel obliged to eat turkey at Thanksgiving. We even like individual meat pies, either stuffed with shredded chicken, beef or game meat like venison or pheasant. And there's nothing quite as convivial as a huge bowl of cassoulet at the center of the table and a few bottles of red wine. It will surely be a Thanksgiving to remember.
All we can say is: no Tofurkey, please.