Price reduced from

$89.99

to
Price
$76.49
fresh:
7 lb avg
Price reduced from

$89.99

to
Price
$76.49
Fully cooked and ready-to-eat, we think our tender and juicy all-natural, hickory-smoked boneless turkey breast is the best tasting you'll find. Our smoked turkey breast is made without nitrates, artificial ingredients or flavors, preservatives, colorings, or liquid smoke. Of course, the turkeys are raised to our strict standards and never get antibiotics or hormones. Your salads and sandwiches, both hot and cold, are about to get a whole lot tastier.
Antibiotic- and hormone-free turkey
No artificial ingredients, no preservatives, no colorings
All natural
No liquid smoke or artificial flavors used
Nitrite free
Fully cooked and ready-to-eat
Product of USA
For best taste on fresh products, use or freeze within 3-5 days of receipt; for frozen products, use within 1-2 days after thawing
Subscription Eligible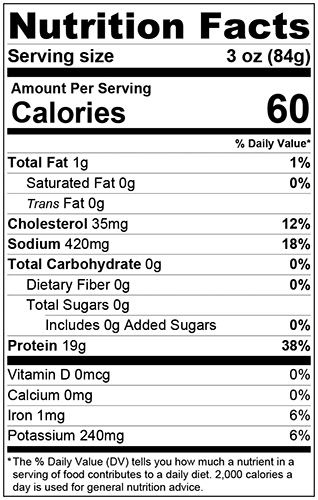 Charcuterie refers to smoked, cured or cooked meats, all of which are traditional methods of preservation. We begin with the highest quality ingredients and follow traditional recipes and natural techniques.
Our handmade charcuterie line represents the full range of styles and flavors, including bacon, cured ham, cooked, uncooked, and dry-cured sausages, pâtés and mousses, duck confit and rillettes, smoked and cured duck, chicken and turkey breasts.