Host a Cassoulet Dinner Party
ou might think you know cassoulet, but all too often the label is thrown on any bean stew. The true dish originates in Southwest France and is named for the cassole, an earthenware dish with sloped sides, in which it is cooked. The recipe is much debated, as each town has a variation that is claimed to be the one true version of cassoulet. A peasant dish that made use of all kinds of scraps, sausages and preserved meats mixed with beans, cassoulet is essentially French chili (though don't tell them that!). It makes a hearty and satisfying meal, and is the perfect centerpiece for a party.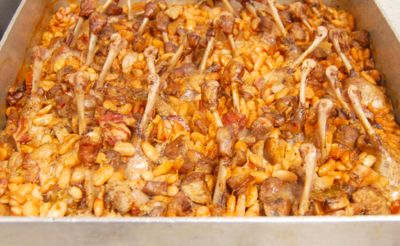 Cassoulet is simpler than it looks to prepare, but it takes time for all the flavors to mingle. It's usually prepared well in advance - in fact, it's even better a day after being cooked – which makes it an ideal low-maintenance dish for a host or hostess. The cook can relax and enjoy the company, rather than spend the evening in the kitchen.
What Goes In
Get ready for rich, inviting Gascon flavors! The D'Artagnan cassoulet is based on the traditional recipe made in Auch, Gascony, where Ariane grew up. In our recipe kit you will find six of our flavorful preserved duck legs (Duck Confit), eight of our juicy Duck and Armagnac Sausages, one aromatic Garlic Sausage, one salt-cured Ventrèche (French pancetta), and a few pounds of Haricot Tarbais Beans. The right bean is vital to the consistency and taste of the cassoulet, and this heirloom bean is imported from France so you can create an authentic cassoulet in your kitchen. Finally, we include a tub of our Duck and Veal Demi-Glace and the much-needed Duck Fat. Mix it all together and what do you get? A dish that's deservedly been popular for centuries.
What Comes Out
As it cooks, your house will be filled with the welcoming aromas of the meal to come. Feel free to check on it along the way, adding some stock or demi-glace if it starts to dry out or get pasty. The top layer of beans should turn golden and crust over a bit, and then be broken several times throughout the cooking process. This creates a crunchy topping that brings welcome bite and texture to the thick, moist stew studded with chunks of sausage and confit.
Cassoulet is fairly easy to make, and aside from the technique described above, doesn't require much fussing. For a quick tutorial, watch Ariane and Chef Pierre Landet cook up a cassoulet in our entertaining video and see how much fun it can be.
When the time is up, it'll be too hot to eat. Maybe that's for the best, because the longer you wait, the better it tastes. Plan to eat it the next day. Once cooled, cassoulet can be stored in the refrigerator and reheated for a party. It's the ultimate in convivial dining, made to be shared.
What Goes With
In France it would not be possible to eat cassoulet without a bottle of red wine to accompany it. Of course, when hosting a cassoulet feast it's more realistic to fortify with multiple bottles.
The dark red wines of South West France make good companions for cassoulet. Madiran is Ariane's go-to favorite, but she also enjoys Malbec. Look for the appellation Cahors, which is an area of South West France that produces such dark wines that they are often called "black wine." If you cannot find Cahors, settle on a fine Argentine Malbec. These heavy red wines are tannin-rich, typical of the region, and are bold enough to stand up to the rich flavors of cassoulet.
Nothing else is typically served with an intense and filling cassoulet. Aside from a rustic slice of bread to mop out the bowl, what could you desire? You may choose to serve a refreshing salad with a zesty vinaigrette to balance out the meal. We like arugula with extra-virgin olive oil and a generous squeeze of fresh lemon along with the requisite sea salt and ground pepper.
Cassoulet is an iconic dish that is simple to make yet impressive to serve. Make it for special occasions, or for an excuse to gather friends and family together over a good meal. There's nothing as cozy and convivial as a steaming-hot bowl of cassoulet in winter.