erhaps no one dish personifies American food culture better than the burger. At D'Artagnan, we tend to be hamburger purists, allowing our humanely raised, grass fed beef and kobe-style wagyu to be the stars of the show. Delicious, all-natural beef that's simply seasoned with salt and pepper along with a few traditional burger fixings is all we need, most days. There are those occasions however, when we like to gussy up our burgers by adding toppings and sauces for a little extra oomph. The burger is an excellent blank canvas. Here are some ideas on how you can take the great American burger from humble to haute…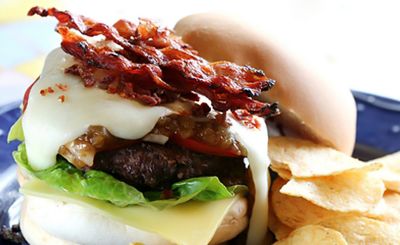 Old Standards
There's something to be said for sticking with the classics but now and then when you feel like shaking up your burger routine try one of our riffs on standard toppings.
Cheese
Instead of reaching for that same old slice, try using cheeses with a little panache. A generous hunk of English Stilton or Roquefort adds a tangy kick. If creamy is your thing, a thick slice of pungent Taleggio, Coulommiers or triple-cream Brillat-Savarin should do the trick. Fontina, havarti and gouda are buttery, smooth and melt beautifully on burgers. Creamy Burrata is mild, milky and decadent on a burger while herbed chevres add a tart pop of flavor.
Or add some crunch with a cheese crisp, or frico – Parmigiano-Reggiano, Mimolette, and Manchego are all good frico candidates. To make a frico crisp: sprinkle ¼ cup of finely shredded cheese in a circle shape (the same diameter of your hamburger bun) on a non-stick baking sheet, and bake in a 375 degree F oven until the cheese melts and begins to turn golden. Let it cool and firm up for a few minutes before using.
Burger "Set": Lettuce, Tomato, Onion and Pickle
Cool, crisp vegetables are the perfect foil to molten cheese and seasoned meat. Instead of standard romaine, try butter lettuce. The heart is crunchy and the leaves are tender and sweet. Arugula has a peppery taste that compliments beef, and watercress adds pleasing astringency to your basic burger. Your favorite cole slaw makes a great substitute for basic greens. In the peak of summer grilling season, nothing beats a flame-grilled burger with a thick slice of heirloom tomato. For an extra layer of flavor, try oven-roasting your tomatoes for concentrated sweetness and toothsome texture. Tomato salsa is a quick and easy topping with a little kick. For an alternative to traditional red onion, try Vidalia or Bermuda onions. Walla Walla sweets are mild and crunchy – great for kids (and kids at heart). Pickles needn't be just cucumbers – pickled beets, onions, peppers and radish are all good burger choices. Pickles give burgers a pleasing acetic taste and crunchy bite. The same effect can be had from a scoop of sauerkraut or if you're into heat, Korean kimchi.
Ketchup, Mayo & Mustard
Ketchup is a burger must-have for many Americans – its concentrated sweet and tart tomato flavor ups the umami factor. Add some heat to basic commercial ketchup with a dash of cayenne, some chipotle pepper or Sambal, an Asian chili relish that comes in a dozen different varieties.
Homemade Mayonnaise
Mayo is not only delicious, it's incredibly easy to make. Mix in a little roasted garlic, citrus zest, wasabi powder or finely minced herbs for something extra. Yellow mustard is a cookout staple but gourmet mustards make a basic burger special. Try genuine Dijon, grainy mustards, honey and fruit mustards, spicy brown, and those made with beer – they're all wonderful options.