tandard burger joint add-on's are transformed into something much more enticing and flavorful with a few subtle tweaks.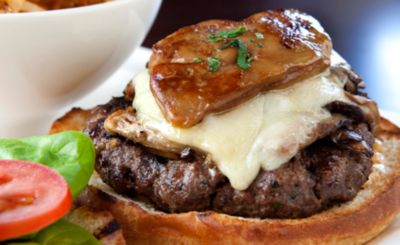 Bacon
We all know that bacon makes everything better but don't get stuck in a bacon rut. Made from Moulard buck breast, our duck bacon gives smoky flavor with half the fat of traditional pork bacon. Crisped ventrèche adds a salty-bite and crunchy texture without smoke. And if you're a ham-fan, ribbons of Jambon de Bayonne stacked atop burger are heavenly.
Caramelized Onions
Delicious but time consuming to prepare, caramelized onions are sweet and silky on a burger. An East Coast inspired mixture of onions & peppers is flavorful and just a quick sauté. A wonderful quick substitute is a store-bought onion relish. Chutneys give the same effect. For added crunch, try haystack shallots or crispy beer-battered onion rings.
Sautéed Mushrooms
Deliciously earthy, meaty and rich – mushrooms are a must-have on our burgers. Elevate your standard sautéed 'shrooms with our wild & exotic mushroom mix. Sauté in some black truffle butter with finely chopped shallot and fresh thyme leaves. For even more robust mushroom flavor, season beef patties with porcini powder before cooking.
Gilding the Lily
Don't be afraid to get creative with out-of-the-box (and sometimes outrageous!) burger toppings. Here are some ideas for truly inspired hamburgers.
A generous slathering of Foie Gras Mousse makes an A+ burger in our book. Add some paper-thin slices of fresh black truffle for extra credit.
Fried egg is a standard burger topping in Australia. We'll gladly pick up this tradition! Soft-cooked yolk adds indescribable richness. Just be sure to add a little spice or acidity for balance.
Adding flavorful compound butters to burgers is an old restaurant secret. Classic maître d'hôtel butter is a perfect addition. Also try simple butters with your favorite fresh herbs, citrus zest, spices, chilies or roasted garlic. Of course the pièce de résistance of compound butters is our own black truffle butter. Top hot patties with a pat of chilled butter right before serving or better yet, stuff your patty with a frozen slice for a flavorful burger that's nearly impossible to overcook.
Meat on meat? Yes! Adding a small helping of slow-cooked shredded meat, like pulled pork, braised short ribs or barbecued brisket to burgers is becoming increasingly popular.
Keeping It All Together
With all of this attention on toppings, don't overlook the packaging! Standard, store-bought buns are fine but bring out your burger's best taste and ensure your sandwich stays together by carefully choosing its bread. Brioche buns and potato rolls are two of our favorites – soft and slightly sweet, they're classic options that match well with a variety of toppings. French baguettes, cut into thirds then sliced lengthwise are sturdy options, as are Portuguese rolls. Toasted English muffins stand up to saucy toppings and pita bread or folded naan hold in the messy bits.