Classic Braised Beef Short Ribs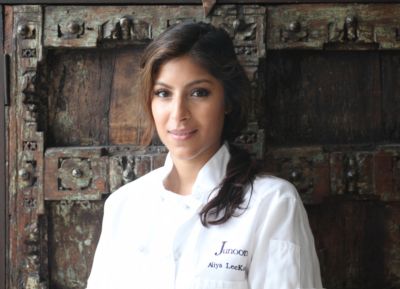 Chef Aliya LeeKong marinates beef short ribs in aromatics prior to braising, for deeply flavored, fork-tender meat.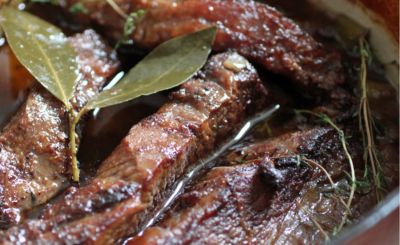 Ingredients
FOR THE MARINADE
1 onion, quartered
8 garlic cloves
1 small red chile pepper
1 1/2 teaspoons whole black peppercorns
2 teaspoons Spanish paprika
3/4 teaspoons onion powder
1 teaspoon garlic powder
3/4 cup vegetable oil
5 pounds Bone-In Beef Short Ribs, (5 to 6 ribs)
FOR THE BRAISE
2 medium onions, cut into medium dice
1 leek, white and light green parts only, thickly sliced
1 celery stalk, cut into medium dice
5-6 cloves garlic, minced
1 small plum tomato, roughly chopped
1 cup red wine
1 small bunch thyme
1-2 fresh bay leaves
3 1/2 cups chicken stock
2-4 tablespoons heavy cream, (optional)
vegetable or olive oil, as needed
Salt and freshly-ground black pepper, as needed
Preparation
In the bowl of a food processor, add the onion, garlic, chili pepper, black peppercorns and ground spices. Pulse until finely chopped, scraping down the sides. With the food processor on, stream in the vegetable oil until a uniform paste forms. Place short ribs in a resealable plastic bag and toss in the marinade. Try to remove as much air as possible before resealing. Move ribs around until all are coated with the marinade. Refrigerate for a minimum of 6 hours.

Preheat oven to 325 degrees F.

Remove ribs from the marinade, wiping off all excess (should be dry). Let ribs come to room temperature. Season all sides generously with salt and freshly ground pepper.

Heat a Dutch oven or heavy-bottomed pot over high heat. Sear ribs in the pan for about 2 minutes per side to develop a nice brown. You don't want to overcrowd the pan, so it's best to work in batches of 2 to 3 ribs at a time. Set ribs aside and drain pan of any excess oil.

Turn heat down to medium-low and add onions, leeks, and celery with a bit of salt to draw out the moisture. You want to cook the vegetables until they have softened and the onions are translucent, about 7 to 9 minutes. Add the garlic and cook for about 30 seconds and then throw in the chopped tomato. Cook for another 2 minutes.

Add red wine and use your wooden spoon or spatula to scrape the bottom of the pan. You want to dislodge all of the brown bits from the bottom of the pan so they really flavor the cooking liquid. Let the red wine simmer and reduce until the vegetables are almost dry.

Nestle the browned ribs back in the pot amongst the vegetables. Don't forget to throw in any accumulated juices from the plate where you were resting the ribs as well. Add in the thyme, bay leaves, and chicken stock and increase the heat to bring it all up to a boil.

Immediately, cover tightly with a lid or foil-line and then place a lid on top. Place pot in the oven and cook for 3 to 3 ½ hours until the meat is fork tender (or basically falling off the bone…). Season to taste.
Chef's Tips: Now, these are absolutely delicious like this. You have a number of choices depending on what kind of time you have.
You can serve as is with a bit of the cooking liquid (thin).
You can remove the ribs and skim off as much fat from the top of the cooking liquid using a ladle. Then, reduce the liquid by half over a medium flame, strain through a mesh strainer into another pan, and add heavy cream to thicken. The ribs can be simmered in this if you want to heat them up a bit.
This is what I like to do. I like to make the night before and cool the ribs in the cooking liquid. The fat solidifies in the fridge, so it's really easy to spoon off. Then, I just follow #2. I love to just throw the ribs back into the strained sauce and reheat.