Moroccan-Style Braised Lamb Shanks with Mint Yogurt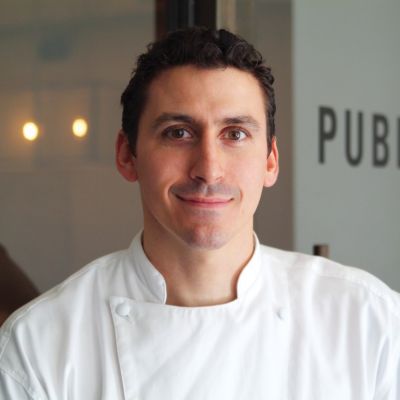 Chef Brad Farmerie makes a hearty, spiced braising liquid for lamb shanks and serves them with a cooling mint-yogurt sauce.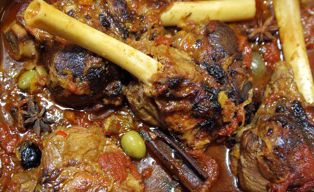 Ingredients
4 tablespoons olive oil, plus 2 teaspoons
1 onion, sliced crosswise
1 three inch piece fresh ginger, peeled and finely minced
2 1/2 cloves garlic, finely minced, divided
1 red chile pepper, chopped
2 stalks celery, diced
1 carrots, diced
2 teaspoons cumin
2 teaspoons ground coriander
2 cinnamon sticks
3 whole star anise
2 pinches saffron threads
1 teaspoon oregano
2 cans (16 oz each) peeled tomatoes
3 cups chicken stock
20 high quality non-pitted green or black olives
8 dried apricots, sliced
Salt
Pepper
3/4 cup Greek yogurt
1/2 cup mint leaves, chopped
Preparation
Preheat oven to 325 degrees F.

Place 4 tablespoons of olive oil, onion, ginger, 2 cloves garlic and chile in a pot and place over medium heat. Cook for 5-6 minutes, or until they begin to soften. Add celery, carrot, cumin, coriander, cinnamon, star anise, saffron and oregano and continue to cook over medium heat for 3 to 4 minutes, stirring all the time. Add the tomatoes, chicken stock, olives and apricots. Increase the heat and bring to a boil. Place the sauce into a deep roasting dish.

Place the lamb shanks into the sauce and place in the oven uncovered. Season with salt and pepper. The exposed lamb will brown in about 20 to 30 minutes. Rotate the shanks within the sauce to expose a different portion of the shank. Continue checking and turning the lamb every 30 minutes until they are evenly browned.

Cook until the meat is starting to fall off of the bone and the sauce has thickened, about 2 1/2 hours. If they become completely browned and the sauce is thick but the meat is not tender, cover and cook until they are done. Remove from the oven, skim any visible fat that may have come to the surface.

Either serve immediately or allow to cool to room temperature and place in oven safe serving dish and refrigerate until needed. To reheat, place covered dish in a 325 degree F oven for about 30 minutes or until the meat warms through.

To make the Mint Yogurt, combine the Greek yogurt, mint leaves, 2 teaspoons olive oil, 1/2 teaspoon salt and 1/2 clove garlic. Serve the lamb with a dollop of the Mint Yogurt.