Availability:
This item is currently not available
fresh:
3.15 - 3.75 lb avg
Our all-natural truffle turkey breast is artisanally made in small batches with whole turkey breast and real black truffles - and no nitrates, nitrites, artificial ingredients, or colorings. Fully cooked and ready-to-eat our truly unique turkey breast offers sophisticated, distinctive flavor and alluring aroma. Whether served as the centerpiece for a Sunday or holiday dinner or sliced for scrumptious sandwiches, this turkey will impress. As always, our turkeys are raised on small family farms committed to sustainable animal husbandry without the use of antibiotics or hormones.
Antibiotic- and hormone-free turkey
No artificial ingredients, no preservatives, no colorings
Coated in real black truffles
Nitrite free
Whole breast muscle, trimmed at the ends for even slices
Fully cooked and ready-to-eat
Product of USA
For best taste on fresh products, use or freeze within 3-5 days of receipt; for frozen products, use within 1-2 days after thawing
Cooking and Preparation Tips
Heat this flavorful truffle turkey breast in the oven. Bring up to room temperature an hour before heating it. Preheat the oven to 300 degrees F. Place on a rack in a heavy-bottomed roasting pan. Pour ¼ inch of water, or liquid of your choice, into the pan. Place a sheet of parchment paper over the turkey then cover tightly with aluminum foil. Heat in the oven until the internal temperature reaches about 140 degrees (about 10 minutes per pound). and slice thickly, as you would carve a whole turkey. Serve the slices with sides of your choice and homemade gravy – perhaps enhanced with truffle butter.
Make the ultimate sandwich with cold, sliced truffle turkey. Try it with bacon for the ultimate turkey club, or in an open-faced hot turkey sandwich.
Cubed and browned turkey breast can be added to mac-n-cheese, grits or polenta, creamy pasta dishes, scrambled eggs, frittatas, pot pie, or breakfast casseroles.
Cobb salad or antipasto will get a tasty boost from the addition of D'Artagnan truffle turkey breast.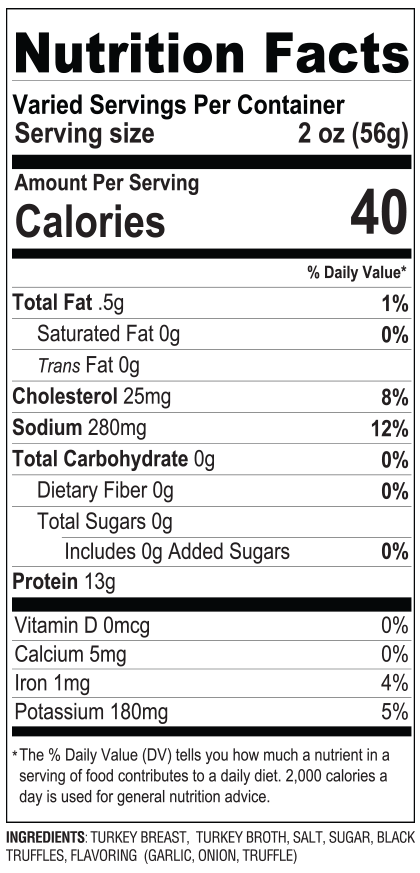 Charcuterie refers to smoked, cured or cooked meats, all of which are traditional methods of preservation.
We begin with the highest quality ingredients and follow traditional recipes and natural techniques.
Our handmade charcuterie line represents the full range of styles and flavors, including bacon, cured ham, cooked, uncooked and dry-cured sausages, pâtés and mousses, duck confit and rillettes, smoked and cured duck, chicken and turkey breasts.