Terrine of Duck Foie Gras
Named for the vessel in which it is cooked, the terrine of foie gras is a classic in French cuisine. To make it, a whole raw lobe of foie gras is tucked into a terrine and essentially steamed in its own juices at a low temperature. The result is an incredibly creamy, delicate bloc of foie gras, with a firm texture that can be easily sliced. Our simple recipe includes salt, pepper, sugar, and nothing else. With so few ingredients, there is nothing to distract from the rich, buttery taste of pure foie gras.
This item is not eligible to be shipped to California
100% foie gras from Moulard ducks
No antibiotics, no hormones
No additives or preservatives
Corn and soy diet
Gluten-free
Ships ready to serve and enjoy
Terrine container is BPA free
8 oz. is our signature oval terrine
1.5 lb. is a rectangular terrine
Product of the USA
For best taste, use within 3-5 days of receipt and/or by the expiration date on the package
Subscription Eligible
Serving Tips: For the cleanest slice, dip a sharp knife into hot water then wipe dry in between each cut. Our ready-to-eat foie gras is surprisingly versatile. Serve it simply with toasted brioche and a sprinkling of flake salt, on a hunk of baguette with fig jam, or on a slice of crisp apple. Use a small piece to enrich a pan-sauce or top a hot steak with a generous slice for an indulgent treat. Sauternes, tawny Port, or a late harvest wine like Jurançon make excellent pairings.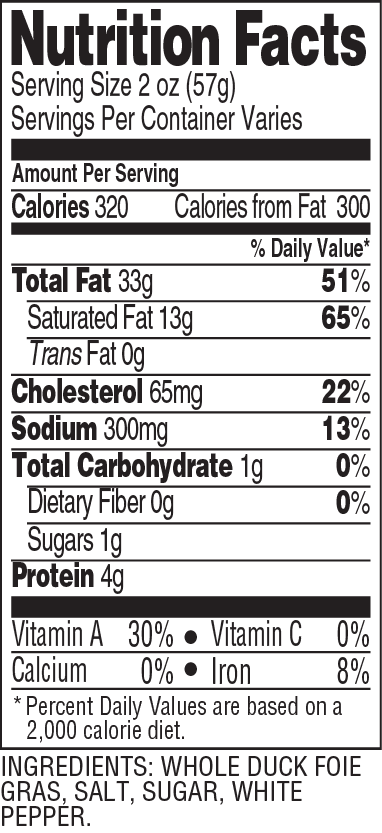 Our foie gras is produced from Moulard ducks raised in New York State at the first farm of its type in the U.S.
The ducks live in deeply bedded barns with constant access to drinking water. They have room to stretch, open their wings, and group together as flock animals do by nature.
Throughout their lives, they eat a whole-grain diet of corn and soy, and no hormones or antibiotics are ever used. Then, during the 3-week gavage period, the ducks live in an open pen holding fewer than a dozen birds and are fed by the same person every day.
Our farm manages all stages of production for superb quality control; they are recognized worldwide as a premier producer of foie gras and Moulard duck products – from beak to tail feather.