Duck and Armagnac Sausage
fresh:
1 Pack (8.5 oz)
Price reduced from

$10.99

to
Price
$9.34
fresh:
3 Packs (8.5 oz ea)
Duck and pork sausage, made all naturally in small batches, with no nitrates, nitrites or artificial ingredients from meat raised humanely without antibiotics or hormones. An essential ingredient in cassoulet, these sausages are also great with pasta, in soups, stews, and holiday stuffing, casseroles and even charred on the grill.
Humanely-raised duck and pork
No antibiotics, no hormones
Handmade in small batches
All-natural
No artificial ingredients or colors
No added nitrates or nitrites
Gluten-free
Contains pork and alcohol
Allergens: contains dairy, eggs, garlic
Ships in an uncooked state
4 links per package
Product of USA
For best taste, use within 3-5 days of receipt and/or by the expiration date on the package
Subscription Eligible
Cooking Methods: Sauté, Pan-Fry, Roast, Braise, Steam, Grill
Cooking Tips: Besides being an essential element of cassoulet, our duck and Armagnac sausage adds flavor to your favorite recipes and can serve as a quick and easy main course. Sauté sausage with onions and peppers, crumble, brown, and add to pasta or casserole; or grill and serve in a baguette with your favorite condiments. Sausages can be cooked in or out of the natural pork casing. When pan-searing or grilling, cook slowly at a moderate temperature to prevent the casing from splitting.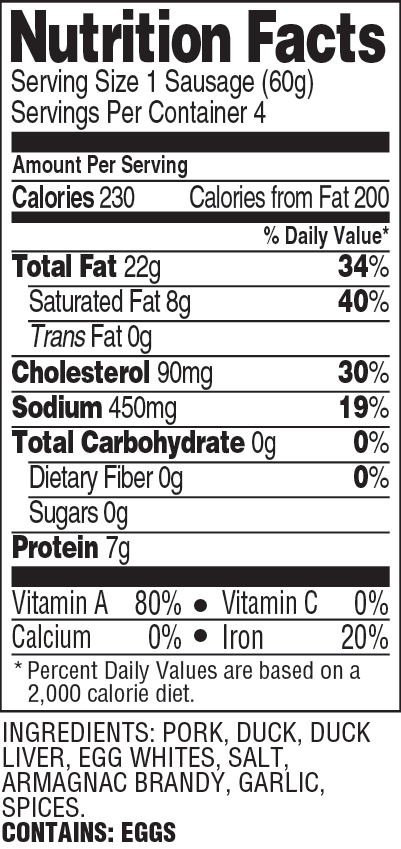 Charcuterie refers to smoked, cured or cooked meats, all of which are traditional methods of preservation.
We begin with the highest quality ingredients and follow traditional recipes and natural techniques.
Our handmade charcuterie line represents the full range of styles and flavors, including bacon, cured ham, cooked, uncooked and dry-cured sausages, pâtés and mousses, duck confit and rillettes, smoked and cured duck, chicken and turkey breasts.