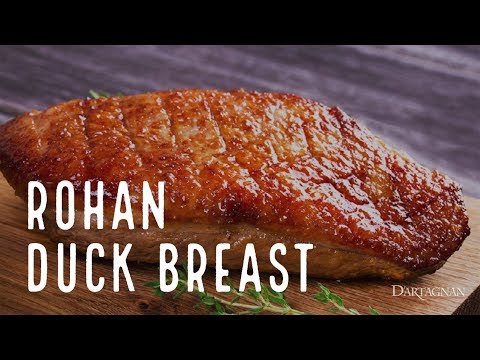 D'Artagnan Rohan Duck Breast
fresh:
4 breasts per pack (7-8oz avg per breast) - Bulk Pack
frozen:
4 breasts per pack (7-8oz avg per breast) - Bulk Pack
frozen:
4 breasts per pack (5-7 oz avg ea) - Bulk Pack
Rohan duck is exclusively available at D'Artagnan. Raised without antibiotics or hormones in open barns, our proprietary hybrid includes the Heritage Mallard and Pekin duck breeds. With a flavor reminiscent of a heritage-breed duck from France, the juicy, tender, rose-colored meat and mild taste make the Rohan™ Duck unique.
Download Our Duck Breast 101 Guide
Also Available:
Pekin Duck Breast
D'Artagnan exclusive
Unique heritage crossbreed
Humanely farm-raised in New York State to D'Artagnan's exacting standards
Pure vegetarian diet including corn and soy
No antibiotics, no hormones - ever
Cage-free
Air-chilled; no added water
Sold in an uncooked state
4 single breasts in package
7-8 ounces each, on average
Product of USA
For best taste on fresh products, use or freeze within 3-5 days of receipt; for frozen products, use within 1-2 days after thawing
Subscription Eligible
Cooking Methods: Pan-Sear, Pan-Roast, Sous Vide, Grill, Poach
Cooking Tips: Duck breast is best served medium-rare. Whether pan-searing, roasting, or grilling, score the fat layer before cooking to render and crisp. After resting, slice the breast against the grain in 1/4&quote; slices before dressing with your favorite sauce.
The D'Artagnan Rohan™ duck is a proprietary hybrid of several duck breeds including the Heritage Mallard and the Pekin, and is raised exclusively for us on a farm in New York State.
Like our other ducks, the Rohans are raised cage-free, in open barns with plenty of space and sunlight and eat a vegetarian diet of corn, soy and fresh, clean water.
The ducks are hand-processed on the farm in a USDA-inspected plant. A superior air-chilling process means that the ducks do not retain water, which can affect texture, taste and weight.