Availability:
This item is currently not available
frozen:
2 lbs (4 fillets, 8 oz avg each, 2 per pack)
Chilean sea bass, also known as Patagonian toothfish, is one of the most sought-after fish in the world. Prized for its tender, moist meat, and mild, buttery flavor, this melt-in-your-mouth fish is snow-white, comparable to sablefish or black cod. The moderately oily texture makes it ideal for grilling, roasting, broiling, or pan-searing. Chilean sea bass was an overfished species throughout the 1980s and 1990s before conservation efforts were put into place. Today Chilean sea bass is one of the most regulated wild fish species in the world, ensuring its sustainability for years to come.
Explore recipes:
Baja Fish Tacos

Learn more: Sustainable Fish is the Responsible Choice The Health Benefits of Eating Fish Fresh vs. Frozen Fish: Which is Best?
Wild, line-caught
Certified sustainable by the National Oceanic Atmospheric Administration (NOAA)
Responsibly sourced
Latin name:

Dissotichus eligenoides

No additives or preservatives
Mild, buttery flavor
(2) 8oz portions per pack, 2 packs total
Individually Quick Frozen (IQF) to preserve peak freshness
Product of Chile
For best taste on frozen products, use within 1-2 days after thawing
All seafood purchases will be packaged and shipped separately (at no additional charge) from the rest of your D'Artagnan order.
Cooking Tips:
Chilean sea bass is an excellent fish for sautéing, but avoid heavy sauces that compete with the full flavor of the fish. Because of its high oil content, Chilean sea bass also lends itself to smoking, poaching, and grilling. It can be fried, sautéed, baked, grilled, boiled or steamed.
Cooking Methods:
Fried, Sautéed, Baked, Grilled, Boiled or Steamed
How to Properly Thaw Fish:
To protect the high-quality flavor and texture of your fish during thawing, you must remove the frozen fish from the vacuum-sealed packaging in which it is shipped. Details on best defrosting methods can be found here.
SAFE HANDLING INSTRUCTIONS:
Some food products may contain bacteria that could cause illness if the product is mishandled or cooked improperly. For your protection, follow these safe handling instructions.
- Keep raw fish and seafood separate from other foods. Wash working surfaces (including cutting boards), utensils, and hands after touching raw fish or seafood.
- Cook thoroughly to an internal temperature of 145°F.
- Keep hot foods hot. Refrigerate leftovers immediately or discard.
- Keep refrigerated or frozen.
- Thaw in refrigerator or microwave.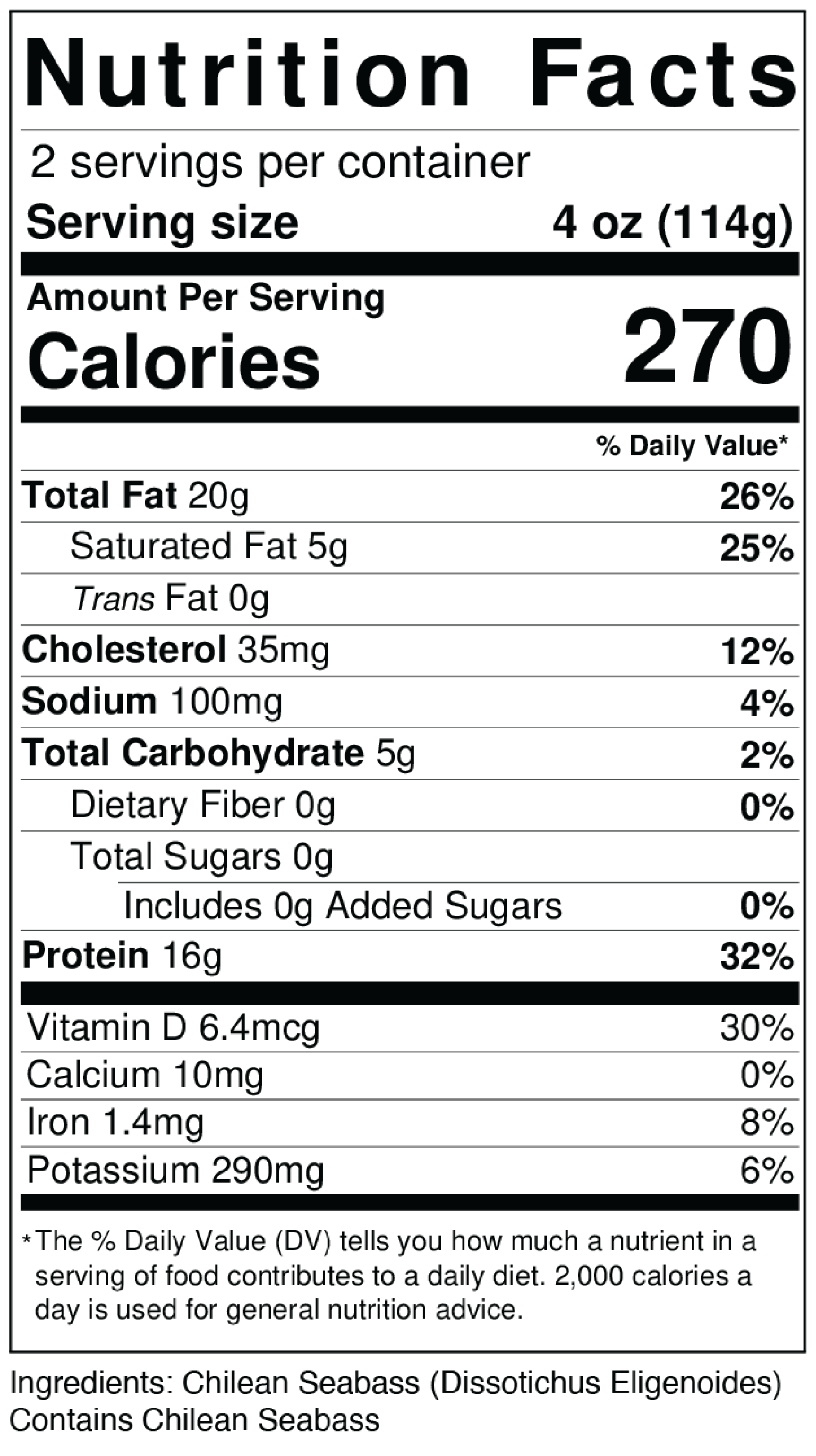 As the trusted expert in sustainable proteins for over 35 years, we apply the highest D'Artagnan standards for responsibly sourced seafood. Our careful selection offers center-of-the-plate protein you can trust, harvested with respect for marine ecosystems, the environment, and protections against overfishing. Our seafood is certified sustainable, fair trade, or organic by third-party watch groups. The majority of our selection is wild and line-caught while other species are sourced from sustainable and pristine aquafarms. To maintain flavor and freshness – without using additives and preservatives – our fish is quick-frozen at sea, or within hours of the catch (also known as IQF). Our selection of seafood offers quality and flavor for home cooks who care about protecting the environment and demand the best for their tables.