Who We Are
ince our founding in 1985, we have remained dedicated to putting only the finest meats on the tables of American gastronomes. At the vanguard of the farm-to-table movement, we are the leading purveyor of foie gras, game meat, organic poultry, pâtés, sausages and smoked delicacies in the nation. All of the four-star restaurants in New York City, for example, have D'Artagnan products on their menus.
Our philosophy is simple. Before such buzz words existed, we were committed to free-range, natural production and sustainable, humane farming practices. We partner only with small farms and ranches that have strict standards, never use antibiotics or hormones, and sign affidavits to that effect. We support these methods so that we can offer you the best-tasting, conscientiously-raised meat possible.
For our smoked, cured and cooked items, we rely on natural ingredients and traditional recipes and techniques to provide the best flavor and health benefits.
We are passionate about quality from the farm to your fork, which is why our products hold pride of place in professional and home kitchens alike. From free-range, organic and heritage meats to preservative-free charcuterie, D'Artagnan continues to set the trend.
About Ariane
We will need more space to tell that story. But here's the short version. The founder, owner and visionary of D'Artagnan, Ariane Daguin was born into a world of great food.
She grew up in the kitchen of the Hôtel de France, in Auch, Gascony, where her father, André Daguin, the chef-owner, established his culinary fame and was recognized with 2 Michelin Stars. The seventh generation in a line of respected chefs, he is renowned for his artistry with foie gras, duck and other Gascon specialties. Under his tutelage, Ariane was an expert at deboning ducks, rendering duck fat, preparing terrines and cooking game birds by the time she was ten.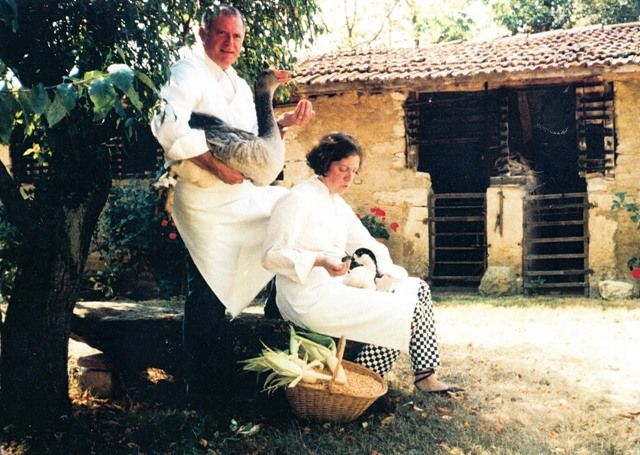 A career in food might have seemed natural, but Ariane decided to take off her apron and leave France to pursue an academic degree at Columbia University. But a woman with her background and intuitive understanding of food couldn't stay away from it for long. While working part-time for a New York pâté producer, Ariane was in the right place when the opportunity to market the first domestically-produced foie gras presented itself. Perhaps she alone understood the significance of that moment. Inspired by the vision of foie gras raised in America just like she remembered from back home, she gathered her limited financial resources and launched D'Artagnan, the only purveyor of game and foie gras in the United States at the time. And ever since then, Ariane has been leading the way.
Ariane has remained a devoted advocate for natural, sustainable and humane production, and was at the forefront of the organic movement in America, pioneering organic, free-range chicken (years before the USDA allowed the word "organic" on the label) and humanely-raised veal. Her motto is, "A happy chicken is a tasty chicken."
D'Artagnan's inception greatly influenced the culinary landscape in America, since it coincided with the nation's growing interest in gourmet food. Before D'Artagnan, four-star chefs had absolutely no resource for beautiful, fresh ingredients such as foie gras, duck, squab and quail. Once we made these and other previously difficult-to-find products readily available, a whole new era in American cooking was born.