Stuffing & Dressing Ideas
hether a stuffing is a dressing, or vice versa, is as much about semantics as whether cooked inside or outside the bird. One thing that is certain, both are tasty, fragrant, comforting and satisfying; accompaniments with a balance of texture and taste that complement the bird and pay compliment to the cooks work and ability.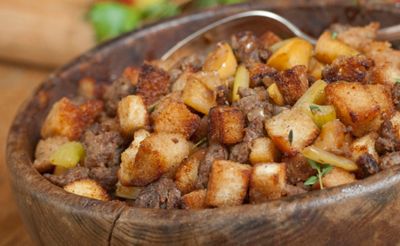 While recipes for many holiday dressings tend to build on bread, plenty call for grains like rice or wild rice, or even cooked chestnuts as a primary foundation. A dressing also presents you with an opportunity to add a few choice ingredients that can elevate the level of your meal, or step up to an elaborately prepared gourmet bird. Several recipes take advantage of the bounty of autumn and fall harvests, and include fresh ingredients such crisp apples and pears, wild chanterelle and black trumpet mushrooms, and various truffles like the White Alba and Winter Black varieties.
If your dinner is a more formal affair, another grand way to stuff or accompany a bird is with a loose dressing, not based on or bound by starch at all, or with forcemeat such as chicken mousseline. For a full on gourmet departure, fill your bird with a simple loose dressing of just a few choice yet intense ingredients; for example fresh Wild Boar Sausage and minced bits of turkey liver sautéed with prunes plumped in black tea, and golden raisins darkened in port - of course, with the port thrown in. For a true delicacy, consider a boned bird or turkey breast filled with a duxelles of fresh wild mushrooms or beautiful pieces of foie gras incorporated into a chicken breast mousseline.
Use the Space
If you decide to forgo stuffing altogether, and brave the ensuing riot, or cook your dressing outside of the bird in a baking dish, you can still make good use of the cavity. There is a method of stuffing intended only to add flavor to the meat. It can be as simple as placing rough chopped onions and carrots lightly sautéed with a sprig of fresh tarragon, or tart apples with the skins pierced, inside the cavity. You then remove and discard these dressings after cooking.
QUICK TIP
1) One of Ariane's favorite things to do when not cooking stuffing inside the bird is to instead put a few pieces of garlic confit in the cavity. To make garlic confit, melt enough rendered duck fat in a saucepan to generously cover your peeled cloves of garlic, and simmer gently over medium heat until the garlic becomes soft. You'll be delighted with how delicious these little babies are, especially so without that sharp garlicky edge. Make a big batch and keep them in the refrigerator to use for everything from spreading on bread to flavoring your mashed potatoes.