he One-pot Meal- For an impressive dinner party, make the ultimate French all-in-one meal:cassoulet, a casserole made from duck confit, sausage, and white beans. Cassoulet D'Artagnan is made easy with our Cassoulet Recipe Kit, containing just about everything you need to make the traditional dish. To save time on party day, make the dish entirely the day before. It actually tastes better this way!
For another hearty, slow-cooked dish, try Coq au Vin D'Artagnan, a French stew with chicken cooked in red wine. Serve the flavorful stew over egg noodles for a complete meal.
Pasta dishes always make a lovely all-in-one meal. Pappardelle with Rabbit, Porcini & Parmesan will deliver the earthy flavors of mushrooms and parmesan with the delicate flavor of rabbit. The thick pappardelle noodles tie the whole dish together.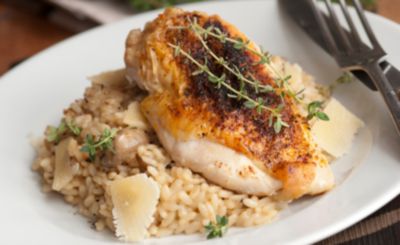 Star of the Plate
Dinner Side Dishes
Forget frozen rolls and opt instead for duck fat yorkshire pudding, puffy airy rolls made from a thin eggy batter typically cooked in hot drippings from a roast. Just substitute duck fat for the traditional meat drippings for a special treat.
Truffle creamed spinach is a welcome side for almost any main dish. Melt truffle butter in a skillet. Sauté shallots and garlic until fragrant. Add fresh baby spinach and cook until wilted. Finish with a splash of cream and season to taste with salt and pepper.
A basic risotto with parmesan cheese is an excellent base for sliced roast beef or a perfectly roasted chicken. Give your risotto the D'Artagnan touch by stirring in sautéed wild mushrooms and topping it with crisp pancetta crumbles.