Cooking with Game Sausage
'Artagnan game sausages are totally unique and loaded with flavor. Hand crafted in small batches using proprietary recipes, our all-natural game sausages are made with top quality ingredients like humanely-raised natural meats that are free of antibiotics and hormones. And they never contain any fillers, preservatives, colorants, nitrites or nitrates.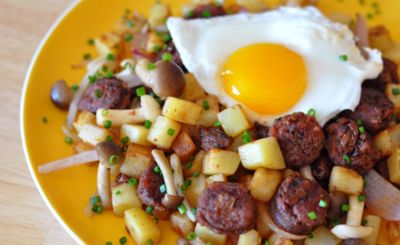 A sausage is a modest tidbit in comparison to the juicy pork chops and bacon yielded from a pig. But it's enjoyed all over the world - even by cultures that forbid eating pork. While bratwurst, hotdogs and kielbasa are popular in Europe, lamb merguez and beef sausages are eaten in the Middle East. And it doesn't stop there. Gourmet food aficionados are now enjoying an epoch of the sausage - buffalo, venison, duck, pheasant, elk, alligator, rabbit, and even python sausages are available. Biergartens are opening right and left, specializing in sausage and beer, that eternal combination. Gourmet food trucks are rolling down streets hawking hot links, knackwurst, game sausages and all kinds of wild wieners. The pig never saw it coming.
Wild Boar Sausage
Our wild boar is a natural place to start with game sausage because of the close relationship of the wild boar to the domestic pig. Wild boar meat is leaner, sweeter, redder and nuttier than pork with an intense flavor. Almost like the ultimate, or über-pork. The flavor of the meat varies depending on what the wild boar ate; if they get into heather or acorns, the taste of the meat will reflect that. D'Artagnan's wild boar hail from Texas, where they run feral and are humanely trapped by ranchers, and then taken to USDA-inspected slaughterhouses and processed as farmed pigs would be. As a result of their feral lifestyle, these boars are antibiotic-free, with no growth-promoting hormones added.
The hearty sausages we make with wild boar meat are lean, intensely flavored and have a hint of sage. The all-natural links cook up beautifully on the grill, or work well sautéed, with onions and sliced bell peppers. They also offer a lean alternative to breakfast sausage and liven up bread or rice stuffing for poultry.
Duck & Armagnac Sausage
Our Duck and Armagnac Sausage is made like the ones Ariane loved growing up in Gascony. It's perfect for cassoulet; in fact if you are from Gascony, it's heresy to make cassoulet without Duck and Armagnac Sausage. The rich mixture of duck and pork meat is spiked with a generous dose of Armagnac (the brandy of Gascony) making a robust sausage fit for a musketeer, with a hint of sweetness. These ducky sausages are also quite good on the grill, eaten out of hand in a baguette like a hot dog and topped with spicy mustard.
Rabbit Ginger Sausage
People have been eating rabbit for centuries, either wild, hunted rabbit, or more commonly, farm-raised rabbit. Rabbits are easy to raise, survive in many types of habitat and reproduce rapidly, making them ideal for meat production. During World War II rabbit meat increased in popularity in the United States because of food shortages, but when the war ended, so did rabbit consumption. But in much of Europe, rabbit has a time-honored place at the table. Italians are especially fond of coniglio braised in stews.
Rabbit meat is sweet and mild meat, similar to chicken in its versatility and texture, but with a unique flavor. D'Artagnan Rabbit and Ginger Sausages are made from a mixture of pork and rabbit, and have a subtle, gingery bite. Rabbit meat is so lean that the sausage benefits from the addition of pork, both in texture and in moisture. Simply grill or pan-fry rabbit and ginger sausage for a quick meal, toss with pasta, or rice, and roasted vegetables.
Venison and Cherry Sausage
While the lean, red meat of venison might not be top of mind for making sausage it has been a favorite with hunters for years, who ate nose-to-tail long before it was a catchphrase. Because of the lean nature of venison meat, fat must be added, otherwise the sausages will be too tough to eat. D'Artagnan Venison and Dried Cherry Sausages contain pork, which balances out the flavor and provides a tender texture. The sausages are robust and rich with a sweet-spicy edge from dried cherries, ground ancho and chipotle chiles. Ideal for summer grilling and serving in a bun, or braising with beer and onions in the winter months, venison sausage can also be added to salads or egg dishes, and is tasty with mashed potatoes.
Game sausages can be left whole, sliced or removed from the casing and cooked in many ways, such as on the grill, under the broiler, pan-fried, braised, griddled or cooked à la plancha.
Just a Few Ideas for Cooking with D'Artagnan Game Sausage
Stir Fry Stars … Sliced game sausages add panache to stir-fry. Try Rabbit and Ginger Sausage with delicately flavored, tender-crisp vegetables like baby bok choy, snow peas, young carrots, water chestnuts and bean sprouts. Dress with fresh grated ginger, soy sauce and a little toasted sesame oil.
Creative Canapés … Top crostini with a spoon of potato or white bean puree, then a thin slice of grilled game sausage for simple hors d'oeuvre. Crumbled and sautéed game sausage is delectable mixed with seasoned breadcrumbs then stuffed into mushrooms, small peppers, cherry tomatoes or onions and broiled until crusty.
Hearty Breakfast … Game sausages make robust, satisfying breakfast links when served alongside your favorite eggs and toast.
Comfy Casseroles … Game sausage adds depth and flavor to hearty casseroles. Duck and Armagnac Sausage is a prime component in our cassoulet. Bean, meat and potato casseroles all benefit from a little game.
Pasta with a Twist … All of our game sausages go well in tossed pasta dishes. Try Wild Boar Sausage with homey red sauce and aged parmesan over spaghetti, Duck and Armagnac with penne and Black Truffle Butter or Lamb Merguez with sautéed peppers and couscous.
Dressing for Success … Dressings, stuffings, and farcis deserve to get in the game too! Add diced game sausage for texture and flavor.
Haute Dog … Of course all of our game sausages are delicious when grilled or pan-fried and served with your favorite condiments on soft buns. Our Game Sausage Sampler makes easy work of feeding a crowd. Just be sure to have plenty of complementary sauces on hand, like chutney, relish, mustard, and aioli.
Storage & Use
All of our game sausages are sold fresh and ready to cook. Keep covered in the refrigerator until ready to use or freeze before the date printed on the package. When frozen in airtight packaging, they'll keep in the freezer for several months.