Best Birds for the Holidays
or 30 years, we have been dedicated to bringing the world's finest natural and organic meats to four-star chefs and home gourmets alike, and our holiday fare is no exception. We are proud to continue this tradition by presenting our exclusive selection of the season's best birds to grace your family's table. To provide you with the very best for your holidays, we expand our offerings for a limited time only to bring you fresh and all-natural heritage turkeys, wild turkeys, USDA organic turkeys, all-natural capons, and all-natural white Embden geese.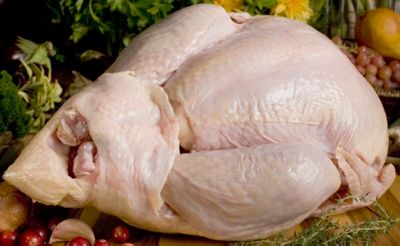 Every Bird - Every Day
We believe that sustainable farming is simply the responsible practice of meeting our common need for wholesome and delicious food without endangering the future. D'Artagnan has always carefully selected and vetted our suppliers, and long worked with small family farms that not only practice sustainable farming, but also care for their animals using good moral judgment. The many benefits of their devoted stewardship are self-evident, not the least of which is producing animals that yield the best quality meat with superb flavor and texture.
What this also means is that all of our birds, not just our celebrated holiday birds, are humanely raised, fed a healthy and appropriately vegetarian diet, and allowed to move about freely in unstressed, low volume environments with the benefit of fresh air and natural light, often with the ability to forage naturally.
Unlike their unfortunate, farm-factory raised counterparts, not one single D'Artagnan bird is ever fed poultry or fish by-products, or protein supplements. No antibiotics or growth hormones are ever administered, and our birds are not subjected to overcrowded, artificially-lit environments.
D'Artagnan Heritage Turkeys are from Standard Bronze, Bourbon Red and Black Spanish stock, but pedigree alone is not what makes these birds the choicest of heritage birds. Our birds feed on a diet of native grasses, seeds and insects, and each bird is processed by hand to ensure quality. All of this translates to a superbly clean bird that yields a naturally firm and moist meat with authentic turkey flavor.
Free-Range American Wild Turkey
Our wild turkey is the real deal, descended from the same breed that has long roamed the woodlands of the United States. These beauties are farm-raised in upstate New York, in near-wild conditions, and fed a diet of alfalfa, hay and barley. Wild turkeys have naturally rich and intensely flavored meat that cooks up firm and moist with a fine-grained texture. A slightly gamey undertone makes it a perfect choice for sophisticated palates. Since wild turkeys rarely grow over 10-pounds they are also great for smaller gatherings. And don't expect a plump breast—these unimproved, wild breed turkeys offer less of the white breast meat than their domesticated cousins, but make up for it in lean, dark, flavor rich meat.
USDA Certified Organic Free-Range Turkey
Our certified-organic, free-range turkey is a naturally delicious, healthy and nutritious choice for your family. These birds are farm raised in the center of Pennsylvania's famous Amish farm country, in adherence to the strict USDA standards required for organic certification. The grain they eat is certified 100% organic to ensure that the birds are free of pesticides and other chemicals. Both meticulous farming and high-standard breeding practices result in a turkey that is 25% leaner than a conventionally raised bird, not to mention healthier for you and for the environment.
Our natural bone-in turkey breast is a convenient way to provide juicy, white turkey meat. It's a welcome addition to a holiday roast or a supplement to your turkey; it can provide extra meat for those large gatherings and satisfy the preference for all white meat. Raised on a wholesome grain diet of corn and soybeans these birds yield breast meat that is succulent and tender.
This deliciously juicy, tender and full-breasted bird is a holiday tradition in France and a great alternative for your holidays. Specially raised on small family farms located in Pennsylvania Dutch Country, these hefty birds have characteristically white flesh generously marbled with wonderful fat, making them a tremendously succulent bird with exceptional flavor and tenderness. Smaller than a turkey, but larger than a standard chicken these birds are perfect for an intimate holiday dinner for two, or up to six.
Our white Embden geese are farm raised on a small farm in the Mid-West. The geese live in open barns and small flocks until they are six weeks old. From then on, the birds range free in natural pastures with access to fresh spring water, natural light and fresh air. Their feed consists of corn and soy meal, with added vitamins and minerals. Juicy and distinctively flavored, it's no wonder that geese are widely held as the best bird for Christmas.