Cooking with Andouille Sausage
'Artagnan andouille is a spicy, smoked sausage made with humanely raised heritage-breed pork and a blend of traditional southern spices. Although andouille has French roots, it is now a staple of American Cajun cuisine. A trio of red chiles along with garlic, brown sugar and hardwood smoke give our andouille its authentic flavor. Andouille is coarsely ground with a firm texture and natural casing which "snaps" when crisped. The spicy links are delicious both on their own and added to your favorite recipes.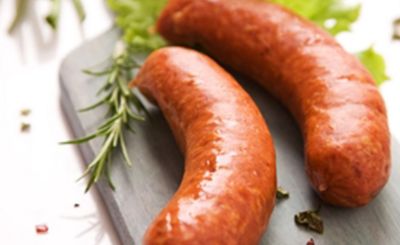 Storage & Use
Our andouille sausage is sold fresh, fully cooked and ready-to-serve, with or without heating. Keep covered in the refrigerator until ready to use, or freeze before the date printed on the package. When frozen in airtight packaging, andouille will keep in the freezer for several months.
Andouille can be kept whole, sliced or diced. Although already fully cooked, our andouille can be heated through and crisped up in a variety of ways, such as pan-frying, broiling, grilling, braising or sautéing.
Just a Few Ideas for Cooking with D'Artagnan Andouille Sausage
Cajun Classics... Andouille sausage is a must-have ingredient for traditional Cajun dishes, like gumbo and jambalaya.
Lunch Links… Andouille is fantastic hot off the grill or griddle. Treat the crisped links as you would a hotdog or wurst – with a slather of your favorite condiments, sandwiched in buns or rolls.
Bountiful Bean Dishes… Rich, spicy andouille makes a wonderful addition to hearty bean and legume dishes, like chili, refried beans, stewed lentils, bean soups and stews and casseroles, adding body and a deep smoky flavor.
Get Saucy… Add a little andouille to your favorite homemade barbecue sauce recipe for some Cajun tang!
Mean Greens… Andouille lends a lot of flavor to braised greens. Collards, kale, chards, dandelion and all other sturdy greens benefit from a touch of smoke and rich pork flavor.
Great Grits… Shrimp and grits is a soul food staple. Add to and amp up the flavor by throwing in some diced andouille.
Smothered with Love… Southern classics like smothered pork chops get the spiced treatment when andouille is added to the recipe. The onion gravy used in smothered dishes gets an extra dimension of flavor from sautéed andouille bits.
On a Stick… Add Cajun flavor to your kebabs with a hunk of andouille. Thread bite-sized chunks of andouille with shrimp, scallops, chicken, pork, veal or vegetables before fire-grilling.
Cajun Pie… Love homemade pepperoni pizza? Next time replace the same old pepperoni with thinly sliced andouille for pizza with a piquant kick.
Super Seafood… Hosting a summer lobster boil, clambake or crab cookout? Spice things up with a little andouille. Cut the links into quarters then add right to the mix alongside your shellfish, new potatoes and corn on the cob. Andouille's smoky spice pairs well with other types of seafood too. Pan-fried cod, steamed mussels, seared scallops, baked oysters and cedar-planked swordfish all benefit.
Rice to Riches… Andouille creates extra tasty rice dishes. Try adding crisped andouille to pilafs, fried rice, paella, dirty rice and arroz con pollo.